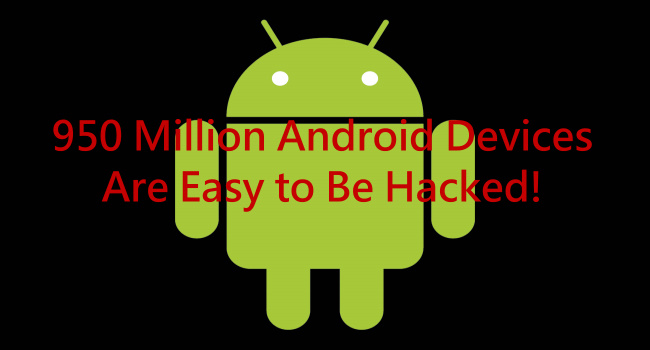 According to a discovery from Zimperium's Mobile Threat Protection, there exists a severe Android Bug/Vulnerability which allows hacker to attack Android users. Read the article carefully to get details.

LIKE Fsticker on FB to get new info of technology.

↑↑LIKE my FB page to get notification.↑↑
Zimperium discovered that……
Risk exists in almost all Android versions. A MMS can make Android users suffer from being hacked. Moreover, 950 million devices are exposed to the risk now according to estimation.
Joshua J. Drake, Zimperium zLabs VP of Platform Research and Exploitation, found multiple remote code execution vulnerabilities that can be used by hackers while attacking Android devices. The worst thing is that hackers only need your mobile number, using which they can remotely execute code via a specially crafted media file delivered via MMS. A fully weaponized successful attack could even delete the message before you see it. You will only see the notification but you won't discover that your mobile have been attacked.
These vulnerabilities are extremely dangerous because they don't require any action taking by Android users. Android and derivative devices after and including version 2.2 are vulnerable. Devices running Android versions prior to Jelly Bean (roughly 11% of devices) are at the worst risk due to inadequate exploit mitigations. If 'Heartbleed' from the PC era sends chill down your spine, this is much worse.
Google acted promptly and applied the patches to internal code branches within 48 hours, but unfortunately that's only the beginning of what will be a very lengthy process of update deployment. However, fixes require an OTA firmware update for all affected devices. In other words, devices older than 18 months are unlikely to receive an update at all. Luckily, there is no hacker using StageFright vulnerability so far.
Source: Experts Found a Severe Android Bug.

HKCERT offers solutions
Learn it now: What to do when you own a mobile with sever Android bug?

Enhance Security of Facebook & LINE.
● How to Clean up Facebook virus?
● Don't Click These Video, Message & Link on Facebook!
● 3 Tips to Keep You away from Hackers.
● 4 Ways to Prevent LINE from Hackers.