Newest LINE stickers are here! If you love overseas stickers, try OpenVPN to view stickers of other regions. By the way, if you use OpenVPN, then you can't register your phone number on LINE. That means you have to register E-mail and Facebook account instead. In addition, LINE Corporation has changed the rule of viewing stickers. Therefore, before you view overseas stickers, please read the article: Rules for veiwing overseas LINE stickers.

Want more animated stickers? Visit FB for the latest news.

↑↑LIKE my FB page to get the newest information.↑↑
Free LINE stickers
↓ La cita de invierno de Brown y Cony
Only for ES line://shop/detail/3372 Valid for 180 days
Way to get: Terms apply. Not available temporarily.
Available till: 2014/12/12


↓ LINE friends, Call me!
Only for PK line://shop/detail/3373 Valid forever
Way to get: Terms apply.
Available till: 2014/11/21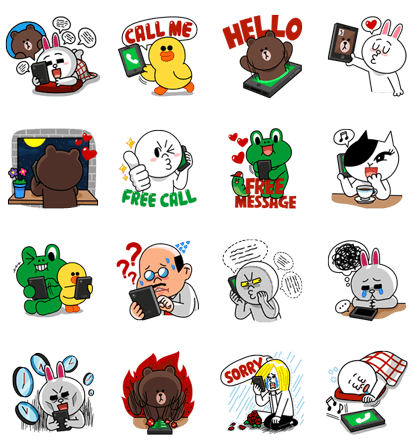 Instructions
1. Register phone number of PK. If you don't have phone number of that region, please read the following instructions. ↓↓↓
2. Use
Region Changer
APP.
Step 1.Confirm that you've stored a backup file of chat history, registered e-mail and FB account on LINE. Make sure that you've set a PIN. You may need it later.
Step 2.Visit Settings on your mobile → Applications → Find LINE & Clear Data.
※For iOS devices: Please uninstall LINE and re-install it.
Step 3.Turn off your mobile to remove SIM card. And then launch mobile. Next, switch Airplane Mode on & connect to Wi-Fi.
Step 4.Download & launch Region Changer. After that, choose "Pakistan".
Step 5.Launch LINE. Click on the URL of stickers and make a Free Call to your friend.
Fsticker will keep offering you the latest information about LINE stickers. If you have any question, please leave a message to us.
Click here to read: Receive SMS Online for free without registration.
Click here to read: Instruction for getting phone numbers from many countries. (coming soon…)
Click here to read: Tips for getting American phone number. (coming soon…)