Sometimes Facebook is really annoying. You must have been forced to install FB Messenger APP recently. If you don't do as what FB requires, then you can't use the chatroom on FB. The most horrible thing is that FB will position your location and send it to your friend while you chat on FB Messenger. Even so, Fsticker still find out some solutions for avoiding kidnapping by FB Messenger.
How does FB force you to install Messenger?
▼ When clicking on message button, you can see the notification which is forcing you to install the FB Messenger APP now. Clicking Learn More won't help you avoid it.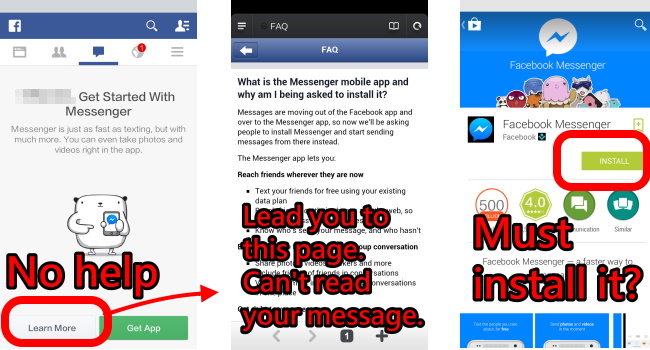 Read the following text for solutions.
Solution for Android
1. If you don't want to use the new version of FB App, try APK file of FB (version 16.0.0.0.0.7.). By the way, FB will detect your device, so this file may not work out for everyone. But you can try. (It's OK on my device.)
Remember to turn off the function of Auto-update apps on Google Play, or you will face the same problem while FB APP updates. All in all, if you haven't updated FB APP, it won't require you to install FB Messenger APP.
Click here to read Instruction: How to turn off Auto-update apps? (coming soon…)
---
2. Visit
Settings
→
Applications
to
Uninstall updates
your FB APP and restore the original FB APP. After that, you can use chatroom on FB. However,
button of Uninstall updates is only available on mobiles which FB APP was built in originally.
Some people can use FB chatroom after they
only uninstall app and then re-install it.
I have tested this method on my Mi 3. It didn't work out.
---
3.
Use Facebook ON WEB instead of FB APP.
Solution for iPhone/iOS
1. Install FBNoNeedMessenger to your iDevice which has been jailbreaked.
Installation:
A. Launch Cydia with your jailbreaked device. And then choose Search button below to type in FBNoNeedMessenger or Fbn.
B. Click Install on the right top and select confirm. The installation will start by auto.

---
2.
Use Facebook ON WEB instead of FB APP.
FB Messenger reveals your privacy.
People who have installed FB Messenger may discover that this APP can position your location. I'm going to show you to turn off positioning and other useless functions.
▼ Visit Settings to turn off Chat heads and Location.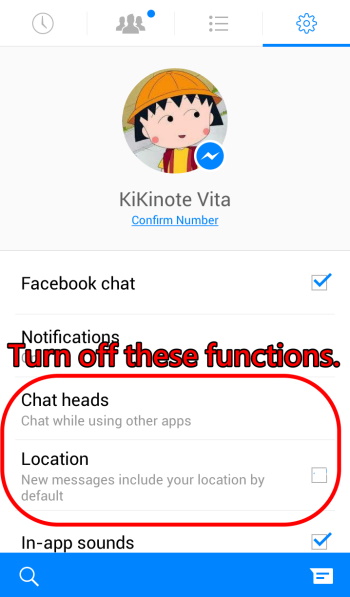 FB Messenger is not useless actually.
We'are unpleasant with FB Messenger because FB has forced us to install it. To tell you a truth, FB Messenger owns some useful functions. Get more information of FB Messenger APP. (coming soon…)
* A Hug Like is only available on FB Messenger.
* Turn on/off Location freely by yourself.
* Free calls are included to let you keep in touch with friends worldwide.
* Search and use images on the Internet during chat.
* Chatting groups can be well organized. You can switch to another group without confusion.
* Send Voice Message via built-in recorder.
View more functions of FB Messenger. (coming soon…)