It's an instruction for changing LINE themes on iOS devices. You can apply all themes downloaded from the Internet in a simple way, if you install the latest iTools and connect iPhone/iPad to a computer.
Illustrate the process of changing themes with pictures
 First, apply the official theme Cony on iPad/iPhone.
▼ Launch LINE and press on Settings. Click Themes.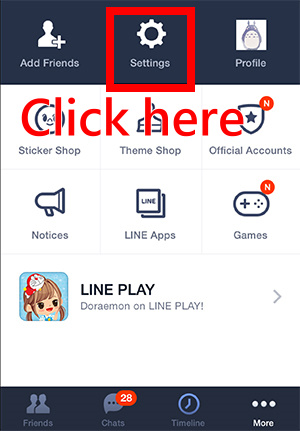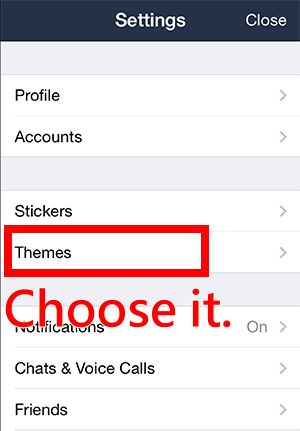 ▼ Choose My Themes to download the official theme, Cony.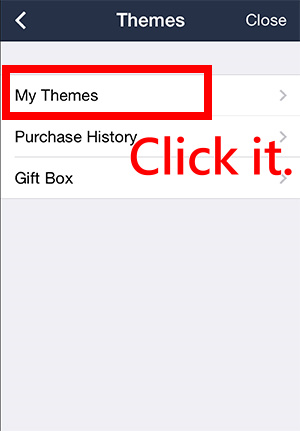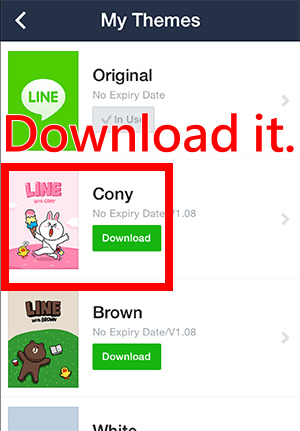 ▼ Please Apply the Cony theme. After that, double click on Home button and slide the screen to turn off LINE APP.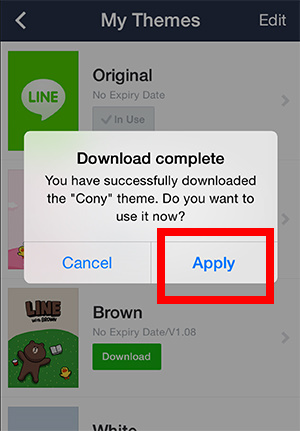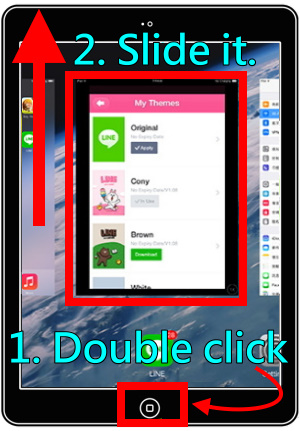 Second, download theme files to your computer. (There will be a file named theme.json & a folder named images after you unzip your theme file.)
Want more creative themes for iOS? View theme files now!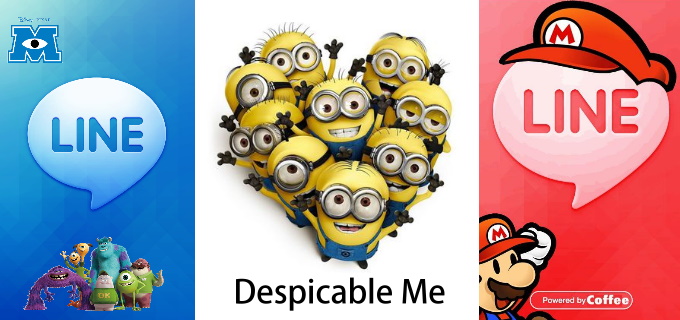 Third, install the newest iTools to computer.
▼ When you finish downloading iTools, click the zip file to check it.


▼ Choose iTools.exe and unzip this file.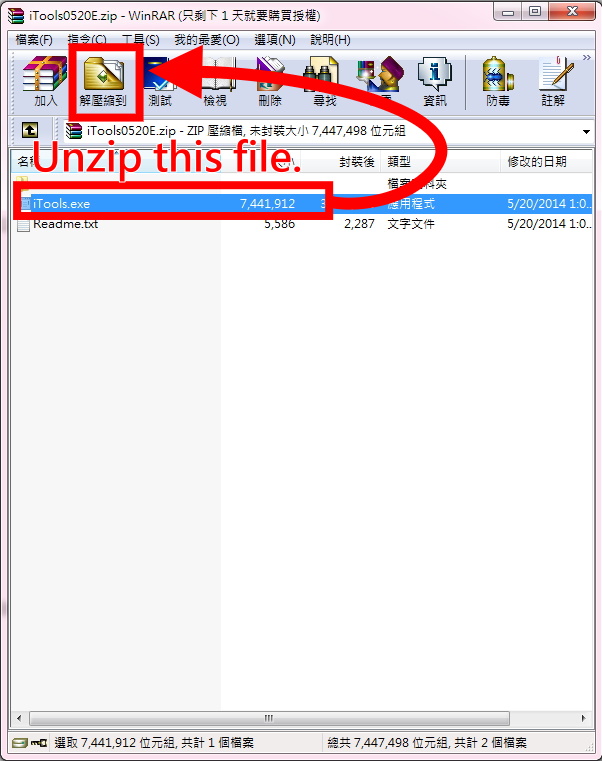 ▼ Now, connect your iPhone/iPad to the computer by an USB cable.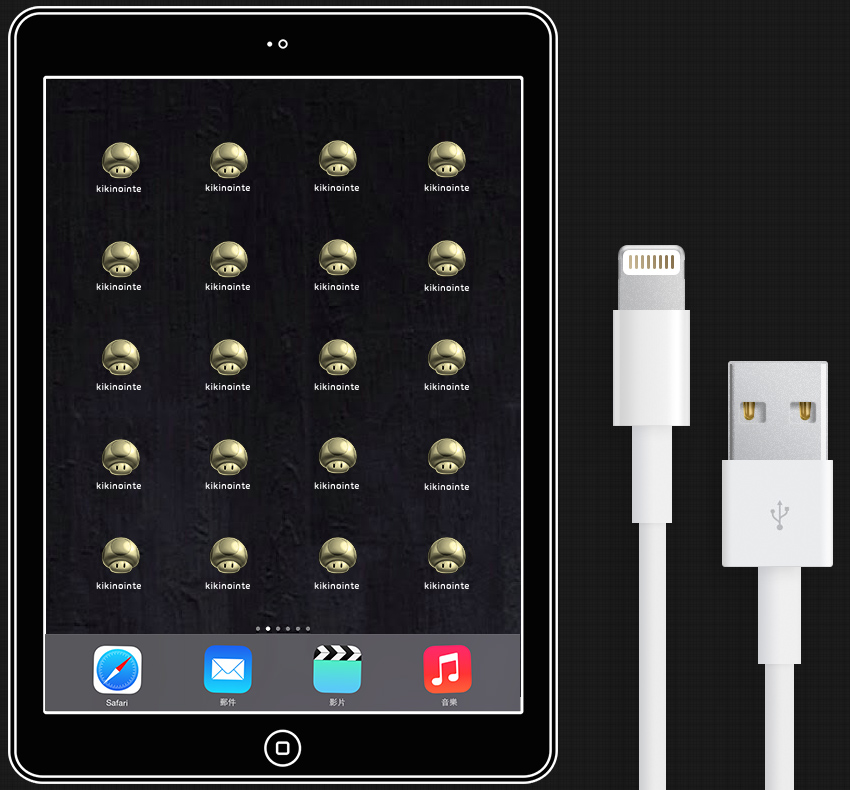 ▼ Double click on iTools and run this software.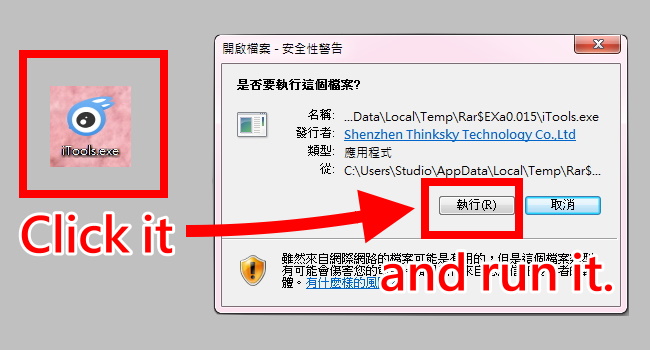 ▼ When you select Applications, you can find LINE here. Click Browse to open it.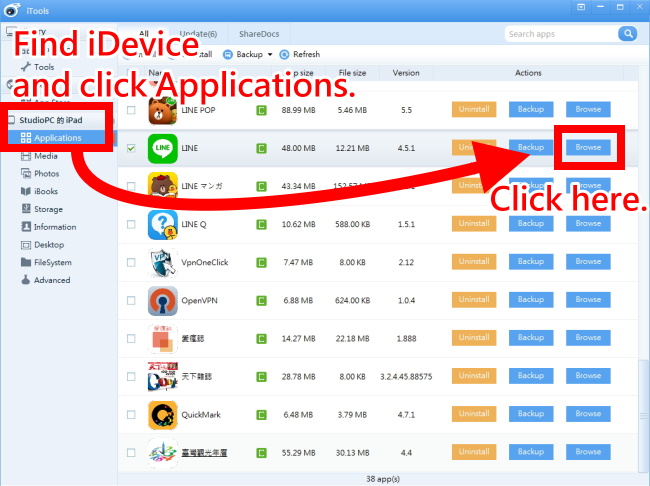 ▼ Open the folder: Library → Application Support → Theme Packages → a0768339xxxxx. And then Delete these 2 files: images & theme.json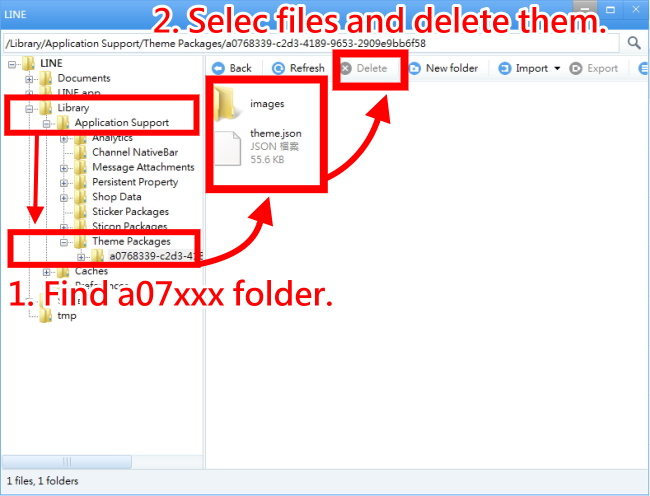 ▼ Next, you must import new file named theme.json and one folder named images.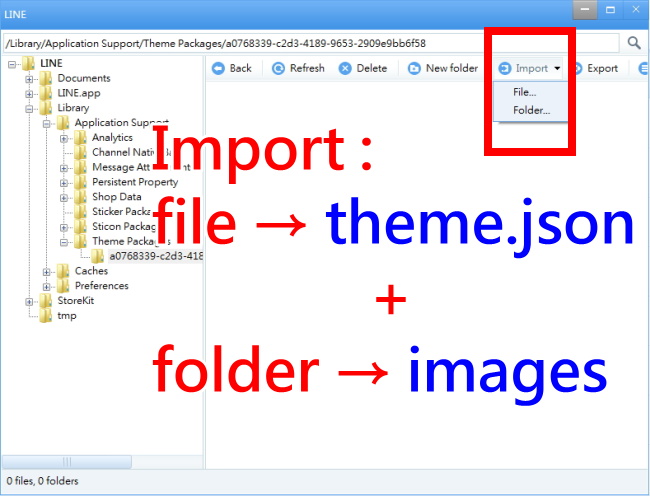 ▼ Now you can lauch LINE on your iPhone/iPad to view the new style of it!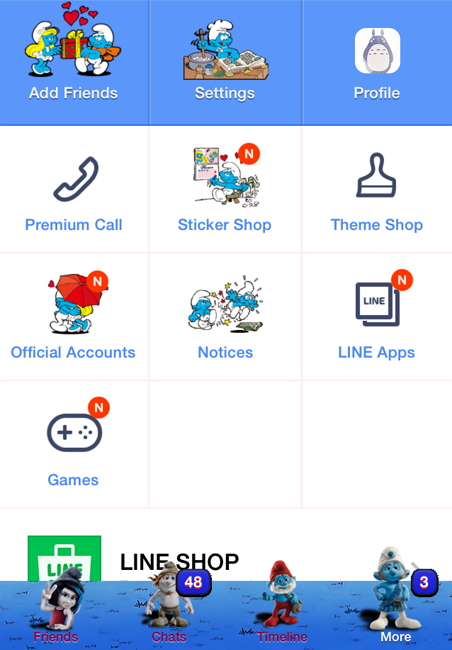 Problems you may face during changing LINE themes
1. Can't find files named "images" and "theme.json" on the computer?
2. How to restore Cony theme after pressing "update" by accident?
3. What can I do when I failed in applying themes?
Solution
Visit Theme Shop to download the Cony theme. After that, double click on Home button of your iOS device and slide on your screen to turn off LINE. And then open the folder a0768339xxxxx on iTools and delete "images" and "theme.json" again. Next, import the files that you want to use.
---
Attention
Please be patient when you import "images" to the folder. Even if you import the wrong file and want to delete it, you have to wait untill the whole file of "images" are all imported. Or you will fail in applying the theme.
Click here to install the latest iTools!
* Old version of iTools【→Click here for details←】
iOS: Change LINE Themes easily without JB!

You can read this article in mobile version if you scan QR Code offered above.
It's common to change LINE themes all over the world nowadays. Therefoer, I'm going to introduce users of iOS devices to a tool for changing themes without JB(jailbreaking). If you want to change theme files, offered by KiKiNote, whenever you want, all you have to do is using iTools! When you finish reading this article, you will know how to change style of LINE to whatever you want.
iOS: Points before changing LINE themes
1: Download iTools to compute.
【 Windows 】:2013 iTools(simplified Chinese) For Win
【 MAC 】:2012 iTools(Traditional Chinese) For Mac

2: Download one theme file for iOS.
LINE themes for iOS>>Download creative iOS theme files!

3: Install iTools and connect iPhone/iPAD to your computer by an USB cable.
After finishing 3 steps mentioned above, you can go on the next step to change themes.
Instruction: Change LINE themes by iTools
▼ Please run iTools and connect it to your iPhone/iPAD.
▼ Click Applications on the left. Search LINE in the search bar. And then click on Browse.
▼ Open the folder:
LINE
→
Library
→
Application Support
→
Theme Packages
→
a0768339-c2d3-4189-9653-2909e9bb6f58
. Import "
images
" and "
theme.json
" of your theme file into a0768339 folder.
Haven't gotten theme files?
>>
Download creative iOS theme files!
▼ Make a check and overwrite the files.
▼ After overwriting files, make double clicks on HOME button to force LINE to stop working. When you launch LINE again, you can see the new theme on mobile.
---
Want to restore the official theme Cony?
Just delete the folder
a0768339
and download Cony theme on LINE.

All images and information edited by kikinote are collected from http://albeewang02.pixnet.net/blog and http://www.soft4fun.net.